The first planet of the Core, Mercury was conquered during the Solar War. Darrow of Lykos led an Iron Rain to take the planet, and end the Siege of Mercury. Due to the losses taken during the Rain, he was brought before the Senate of the Solar Republic to answer charges of insubordination.
Note: Years are based on the Official Red Rising Timeline.
Helios - The main continent of Mercury. The north of Helios is characterized by temperate alpine elevations, the south with Jungles and a desert between them. The south has large lavender farms. Ancestral home of House Votum.

Talarian Peninsula - The northwest peninsula of Helios.

Tyche - The Capital City of Mercury.

Vepsian Island
Tyche Central Command
Harper's Plaza
Tyche-Heliopolis Gravloop Station

Hesperides Mountains - Connects the Talarian Peninsula and the unnamed western peninsula to the Waste of Landon.

Kylor Pass
Erebos - A city in the foothills of the Hesperides Mountains at the western edge of the Ladon.
Tyche-Heliopolis Gravloop

Aigle Mountains
Plain of Caduceus - Connects the Petasos Peninsula to the Waste of Landon.

Unnamed Solar Republic Base

Petasos Peninsula - Northeast peninsula of Helios. The cities that reside here are collectively referred to as "The Children."

Kydon

Unnamed Solar Republic Base - Southwest of Kydon.

Pan

Unnamed Solar Republic Base - Southeast of Pan.

Arabos
Priapos
Kaikos

Heliopolis - Mercury's richest city. South of the Hesperides Mountain Range. The terrain is said to be similar to that of South Pacifica.

Mound of Votum - Set west of Heliopolis, on the edge of the Bay of Sirens, it is where the Votum government was based.

Votum Warroom
Statue of Helios

Water Plaza - A square kilometer, dedicated to celebrating the God of water, Poseidon.

Tyche-Heliopolis Gravloop Station
Water Gardens
Statue of Poseidon

The Bay of Sirens - The entry to The Caliban Sea.

Lady Beatrice - Home of Glirastes, was often seen floating above the Bay of Sirens during the spring months.

The Waste of Ladon - A chalk desert covering a large portion of Helios, situated at the planet's equator. Sometimes called "The Ladon," "The Waste," or "The Eater of Armies."

Graveyard of Tyrants - On Mercury, seven monoliths were constructed to honor seven centuries of Sovereigns of the Society. After Mercury was liberated by the Solar Republic, they were dumped and left to be swallowed by the Landon.

Eleusis - A mining city on the eastern edge of the Ladon.
Angela - A small city north of Eleusis.
Naran - A City. The location is not known.
Keryx - A city on the unnamed eastern peninsula of Helios.
Polybos - A city on the eastern side of the unnamed southern peninsula of Helios, south of Keryx.
Red Reach - A Solar Republic base east of Tyche and northwest of Angelia.

The Caliban Sea - West of the continent of Helios.
The Sycorax Sea - North of the Helios continent.
Borealis - the other continent on Mercury
Trasmian Sea
Ismere Islands
The Mercurian Institute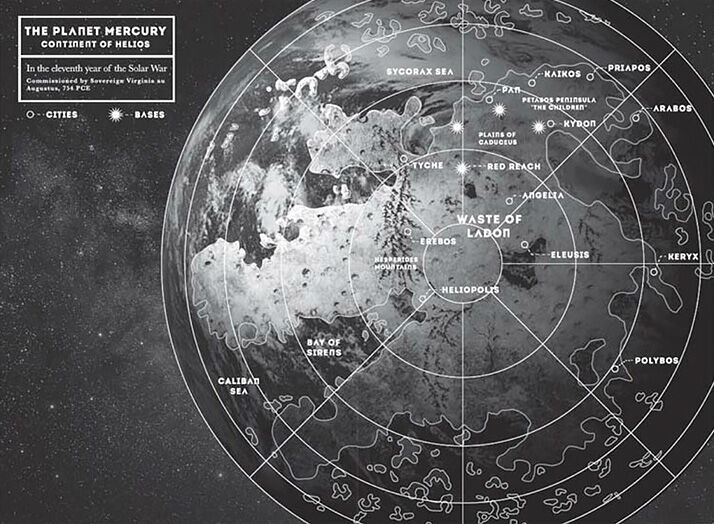 Community content is available under
CC-BY-SA
unless otherwise noted.