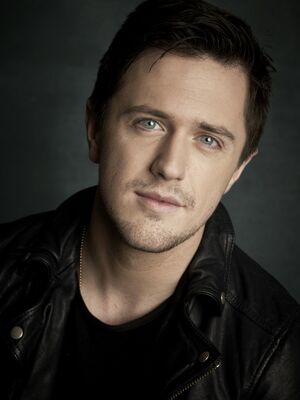 Pierce Brown is the author of the Red Rising Trilogy and a follow-up series to Red Rising. Brown graduated college in 2010, after which he became a manager of social media at a start-up tech company, worked with Disney at ABC Studios, became employed at NBC, and also became an aide on a U.S. Senate campaign,[1] all while trying to make it as an author. In early 2014, his first novel, Red Rising was released to strong positive acclaim. His second novel, Golden Son was released Jan 6th, 2015, to equally widespread acclaim. The third novel, Morning Star, was published February 9, 2016, which debuted at #1 in the New York Times Best Seller list.
He is known to be a pantser, a "fly by the seats of your pants" type of writer, and thus can be prone to making an error or two, as small details can get jumbled in his head[2], as was the case with Kieran and his children.
He currently resides in Los Angeles.[1] He writes in Word.[3] His mother is Colleen Brown.[4] He was named one of sexiest writers in Vanity Fair.[5]
His website is at http://piercebrown.com and his social media accounts can be found listed on our Fan Community page.
Quotes
As a creator, you have to understand that it's not about your work. It's about how your work fits into their life.[6]
Yes, you will have at least one new POV character in Book 6. Probably two.[7]
Appearances
Interviews
Written
Video
References